This is something I've been saying since I started doing interiors. Even though I may be a child of the 80's, in no way did that mantra from designers of the time "don't mix your metals" stick to me. I realize this can be a very hard thing for some to swallow, but trust. Mixing your finishes results in a rich, collected look. If you have all one material on your pulls, fixtures, furniture...it can look forced at best and like you found a sale on all things brass (or silver) at worst. It was definitely a "trend" at High Point to see metals of all kinds mixed together but I'm telling you, this is not a "trend". You will never get sick of mixing metals. It's when you stick to all brass or all nickel that the space looks dated in a matter of a year or two. As with so much in interior design, this is a very visual thing. When I say to clients, "Let's do this brass fixture over your chrome bar stools" there is often a look of horror. When they see a picture of a kitchen rich with various finishes, that look at least shifts to a "You might know what you're talking about...a little...". ;)
For example:
The kitchen below is Sue De Chiara's (of ZHush) Connecticut kitchen.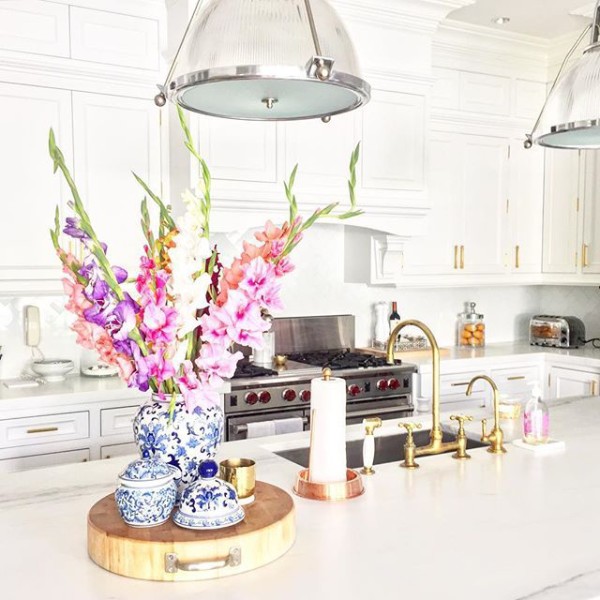 Now, I realize some people will never be ok with mixing metals and my "can be OCD at times" self totally gets that. I hate rules so by no means do I ever write anything with the mindset of it being a must when it comes to decor. You do you, my friends. However, I'm not saying you need every single thing that is metal in a room to be different. In fact, just the opposite. When mixing metals, it's best to have a dominant metal and then bring in other finishes in just a few ways whether they be big or small. Mixing metals on art frames on one wall or in the same room is a perfect way to see how much depth will be brought by this simple trick.
Or simply mixing metals of lamps and the mirror they flank.
They really mixed things up in the kitchen below...
If that kitchen above scares you, I hear ya. That's kind of a wheels off approach which I dig but if you are on the fence, take a look at this. Studio McGee is one of my favorite blogs to follow and they laid it out PERFECTLY as they always do. Two of my favorite things they say is that black goes with everything and to spread your dominant metals around the room. Give it a try!